With Mixer broadcasting built natively into Xbox One, anyone can easily stream their gameplay with just a few clicks. Now with Lightstream Studio you can make branding and personalizing your Mixer streams just as easy!
Lightstream Studio is a powerful creative tool to add a professional touch to your stream. Edit right in your browser – no downloads needed. Best of all, once you have everything setup the way you like, your media will be added to your stream automatically every time you go live.
A Mixer Pro subscription is all that is required to enjoy unlimited use of our special Mixer Project in Lightstream Studio.
Slideshows
Stream
Lightstream layers on your media automatically whenever you go live.
Show the Mixer community what you're all about
Easily add your own overlays, graphics, slideshows, and text to your Mixer stream. Stand out and let new viewers immediately get a sense of who you are and what they can expect from your stream. Look like a pro in no time with free overlay packs!
Keep your viewers in the loop
Immediately engage new viewers and keep them hooked with stream alerts. Shout out new followers and subscribers, highlight donations, set goals, and more!

We support:
Create different preset scenes so you can easily change layouts between games or show a status screen like Starting Soon or Be Right Back. Quickly switch between scenes with any PC or mobile device. 
Visit mixer.golightstream.com on any mobile device to switch scenes from the comfort of your couch! 
Moto, a Mixer streamer, put together a helpful video series that shows how to setup Mixer's Lightstream integration, add image overlays, and setup 3rd party integrations to put alerts, tickers, chat, and more on your stream.
How much does this cost?
Access to the Lightstream Integration is included with all Mixer Pro subscriptions.
When will the Lightstream Integration be available?
Currently the Lightstream Integration beta is available instantly to all Mixer partners and pros.
How is this different than the Lightstream Studio plans?
Lightstream Studio offers three plans that scale based on a streamers needs: Professional, Creator, and Free. Mixer is the only plan that allows users to stream directly from their Xbox. If you have a Mixer Pro account, these plans DO NOT affect your account. A Mixer Pro subscription is all that is required to enjoy unlimited use of our special Mixer Project in Lightstream Studio
How do I enable the Lightstream Integration on my Mixer account?
Just head over to Mixer.com, click on your profile picture in the top right, click Manage Channel, and you should see the option to send your Mixer feed to Lightstream.
What software can I go live with?
We support all desktop broadcast software that uses Mixer's FTL protocol, as well as the Mixer app on Xbox, Windows 10, iOS, and Android.
Do I have to visit Lightstream every time I stream?
Nope! Your stream will still be passed through your Lightstream's Mixer project and apply all your overlays and alerts even when you don't have the project open.
What will go live when I start my stream from my normal software?
When you start your stream with the Lightstream Integration enabled, your stream will begin with all layers that you have added to the first scene of your Mixer project.
Help is just a click away
Just getting started? Have some questions? Reach out anytime with live chat support in the bottom right corner of the editor!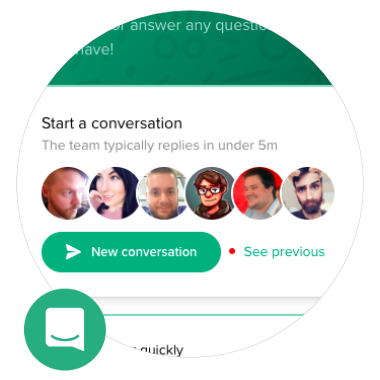 Visit the Mixer Knowledge Base to learn more about the integration and contact Mixer support.
Level up your Mixer streams