Around 6 PM UTC (2 PM ET) Sunday 10/13, a meteor wiped out the Fortnite island, leaving behind only a black hole. (Yes, that's definitely how physics works. Don't google it.)
This unexpected catastrophe left gamers across the world unable to play, seeing only the aforementioned black hole on their screens. Viewers on Twitch and other streaming platforms responded in a completely logical, predictable manner by tuning in en masse to watch the black hole.
Wait, what?
Source: Arsenal.gg
Yep.
In fact, according to Arsenal.gg data, Fortnite total average viewership** doubled from the time of the outage through the end of Monday relative to the same time period a week earlier.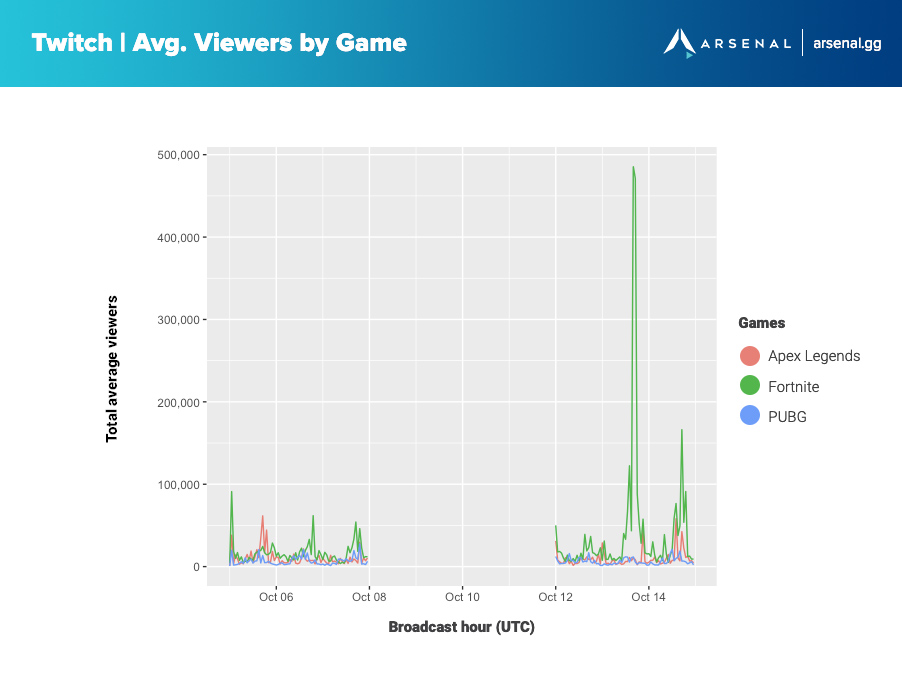 Source: Arsenal.gg
Additionally, Fortnite viewership dwarfed other Battle Royale games like Apex Legends and PUBG immediately following the outage and lasting through the end of Monday. Apex Legends seemed to capitalize on the outage best – their Fight or Fright Halloween event starts October 15th.

It'll be interesting to see how much of this increase Fortnite can retain with its Chapter 2 release. Was this a genius shock to the system with prolonged benefits for Epic Games and streamers alike? Or will they burn through the increased attention quickly and return to their previous baseline?
** Total average viewership is calculated by taking the average number of viewers over the course of a given stream and summing that over a unique combination of platform, game, and date / hour.