Level up your
Xbox & Playstation streams
Automatically add overlays, alerts, and other media every time you go live.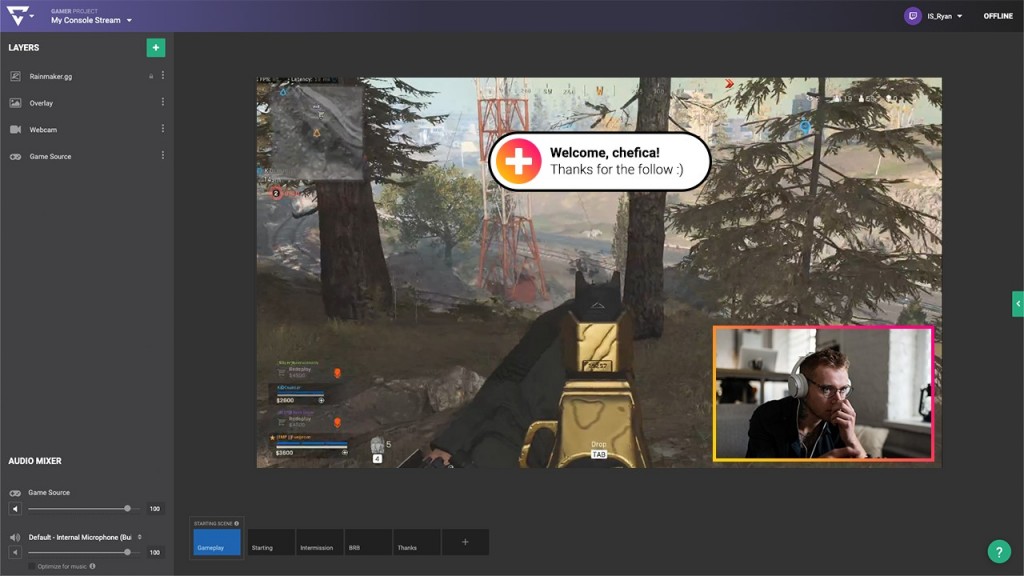 All you need is your console!
Your console is already able to stream your gaming adventures. Edit your stream from any browser – no downloads needed.
Lightstream Studio Gamer Projects currently support Twitch broadcasts from:
Xbox One X|S
Xbox Series X|S
Playstation 4 (PS4)
Playstation 5 (PS5)

Activate
Set your console to stream to Lightstream instead of directly to your channel.
Personalize
Use Lightstream to select your Game Source and design your stream. 
Stream
Lightstream layers on your overlays automatically whenever you go live.
Easily add your own overlays, alerts, slideshows, and text to your Xbox or PlayStation stream. Stand out and let new viewers immediately get a sense of who you are and what they can expect from your stream.
Immediately engage new viewers and keep them hooked with stream alerts. Shout out new followers and subscribers, highlight donations, set goals, and more!
Remote control from your couch!
Create different preset scenes so you can easily change layouts between games or show a status screen like Starting Soon or Be Right Back. Quickly switch between scenes with any PC or mobile device.
Visit remote.golightstream.com on any mobile device to switch scenes from the comfort of your couch!
Plans that adapt to your needs
Enjoy a 7-day free trial with access to all features. Cancel anytime.
Unlimited streaming hours*
Gamer
Console streams with overlays and alerts
$
7
720p 30FPS max resolution

$11/mo

720p 60FPS max resolution

$14/mo

1080p 30FPS max resolution
Gamer Projects
Cloud-based console capture for Xbox & PlayStation to Twitch.
Creator
Powerful live streaming from your browser
$
20
720p 30FPS max resolution

$25/mo

720p 60FPS max resolution

$40/mo

1080p 30FPS max resolution
Gamer & Creator Projects
Access to both projects. Add RTMP sources and invite up to 7 guests.
* Subject to platform availability
The Lightstream crew is here to provide 1-on-1 guidance. Looking for live streaming 101? We've got that covered too. Check out our Knowledge Base. 
Share your console experience to Twitch!
No downloads. No technical wizardry.