For many live streamers, all of their streams happen in the same place – usually on Twitch, Facebook, YouTube, or one of several other broadcasting platforms. But what if you're looking to reach a wider audience? In that case, you will need to learn how to multistream.

Don't worry! It's not as complicated as it sounds, as you will figure out after reading this essential guide on how to multistream.
Multistreaming means streaming on more than one platform at the same time. It can be a great way to reach new viewers who may not be familiar with your brand or content. After all, the more places your stream is available, the more likely someone will stumble upon it and start watching.
If you're wondering how to multistream, the good news is that the days of limited options are over. We now have a wide range of streaming platforms, the most popular ones being Instagram, Facebook, and YouTube.
As live streamers move from gaming to other niches, more and more platforms are being created to cater to this growing demand, such as Picarto and Mixcloud.
The key to successful multistreaming is organization and preparation. In this guide, we'll walk you through everything you need to know about how to multistream like a pro, including the best software to use and whether it's worth your while.
Let's get into it!

Lightstream Studio 2 is designed to let you multistream seamlessly to YouTube, Twitch, Facebook, Twitter, and all other platforms. Plus, there's no need to download any software.
Why You Should Multistream (It's Super Simple to Do!)
Perhaps the most obvious benefit of multistreaming is that it allows you to reach double or triple the audience you would if you were streaming on only one platform. Rather than having separate streaming sessions for each platform, you can stream once and have your content automatically sent to multiple platforms.

That's cool, isn't it?

But it's not the only reason you should multistream. Here are some others:
Tap into Both Niche and Mainstream Audiences
When starting to stream, you're often under pressure to choose between reaching a wide audience of viewers who are only partly interested in your content and a smaller, highly dedicated group of fans. With multistreaming, you can have the best of both worlds!

Let's say you're a musician who wants to stream live performances. You could set up two streams – one on Mixcloud for your existing fanbase, and one on Twitch for reaching out to new listeners.

By multistreaming, you can ensure that everyone who wants to watch your stream can do so, regardless of which platform they prefer.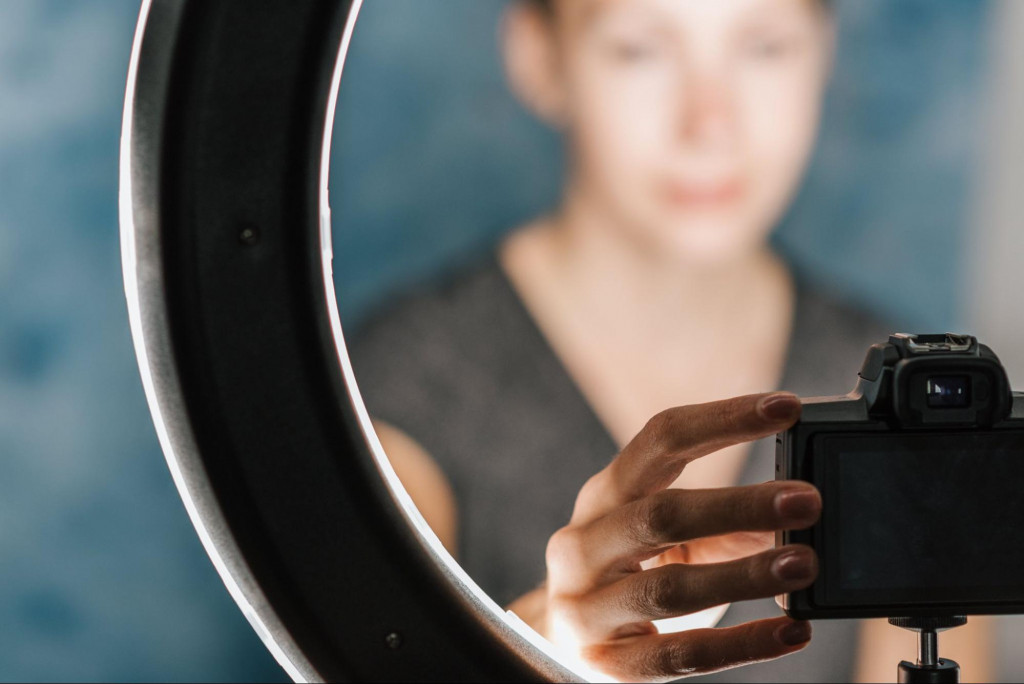 It's frustrating when viewers stop watching your live streams because they don't enjoy the platform you're streaming on. Maybe they're trying to watch on their phone, but the quality is poor, or perhaps they don't have an account on the platform you're using.
Instead, once you learn how to multistream, you can have viewers across a wide range of platforms getting to watch your content. They can watch your stream in the way that suits them best, whether on their phone, laptop, or a gaming console.
Leverage the Unique Features of Each Platform
Let's face it – when it comes to analytics, Facebook is pretty much the king. In terms of other streaming specs, like bitrate, resolution, and framerate, Twitch is often the best option.

The great thing about learning how to multistream is that you can use each platform to its strengths.

For example, you could use Facebook for the reach and data it provides while using Twitch for the high-quality stream that your hardcore fans demand.
Don't Waste Your Time and Money
One more reason you should learn how to multistream is that multistreaming is very efficient. Rather than setting up and tearing down multiple streaming setups, you can do it all in one go. You'll simply need to pay for one subscription to a streaming software that supports multistreaming (more on that later).

On top of that, you'll also save time on things like social media promotion. Rather than creating separate posts for each platform, you can share a link and be done with it. Easy!
Advantages of Multistreaming
Let's get into the specifics of why learning how to multistream is worth your time.
Reach a Wider Audience
It is the No. 1 reason to multistream, and it's also the most obvious one. Streaming on multiple platforms increases your chances of being seen by more people.
Some people want a wider audience for financial gain, while others look for more interaction or to make friends and share their ideas. There's no doubt that having a bigger audience can be a lot of fun.
Grow Your Following
Once you start gaining viewers on one platform, they'll be more likely to follow you on other platforms. This way, you can build a strong presence on multiple sites, which is great for long-term growth.

If you're a gamer, don't be fooled into thinking Twitch is your only option! Likewise, don't avoid Twitch if you're doing something other than gaming. The right audiences can be found in unlikely places – you've just got to throw your line in.
Experiment with Different Types of Content
As we mentioned before, streaming on multiple platforms gives you the freedom to experiment with different types of content. It's a great way to figure out what your audience responds well to.
For instance, you might find that your audience engages more with the short-form, social media-style live streams you run on Facebook and Instagram than the gaming streams you post on Twitch and YouTube.
Test Different Platforms: If you're not happy with the platform you're currently using, learning how to multistream allows you to try out other options without having to start from scratch.
Streamers will all have their opinions about which platform is best for what purpose. But ultimately, it comes down to personal preference. See which platform gets the most engagement while you're multistreaming and test which platform feels best for your content style.

Make Money from Multiple Sources
Are you looking to monetize your streams? Multistreaming is a great way to do it. You can set up donations on one platform and run ads on another.
Note, however, that Twitch Affiliates and Partners won't be able to multistream. Ads will be your main revenue source from multistreaming.

As you can see, there are plenty of reasons why you should learn how to multistream.
How to Multistream with Lightstream Studio
Guess what? Trusted streaming platform Lightstream has been working on something exciting, and it's finally here: Studio 2. Are you ready to take your stream to the next level with multistreaming?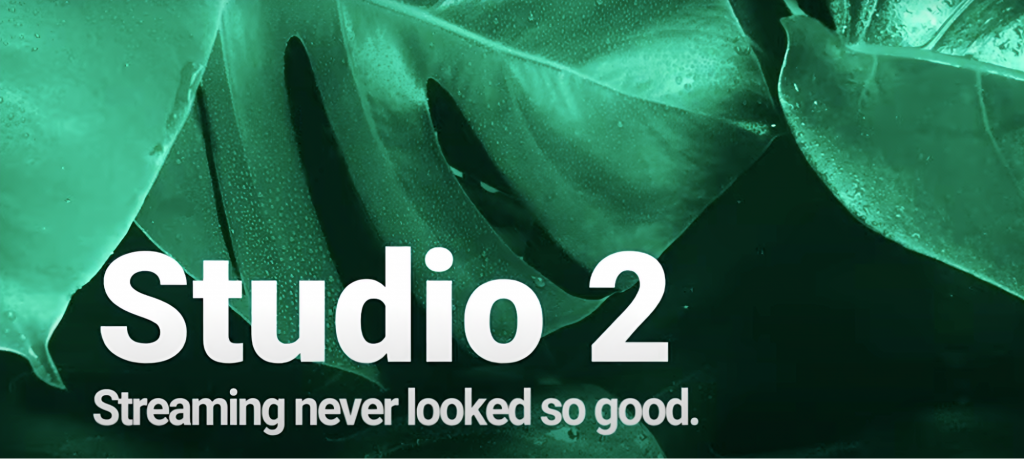 Studio 2 makes it easy to go live on multiple platforms at once, without any headaches or hassle. All you need is a subscription with Lightstream, a good internet connection, and you're ready to roll.
Lighstream has made it incredibly seamless to choose your platforms and go live. More platforms are always being added, and any that aren't already integrated can still easily be used with the custom RTMP destination feature. It may sound complicated, but we promise, it's easy!
Here's how it works:
Sign up for Lightstream Studio 2 here. You can start getting set up on Studio 2 now and experience the full platform for free with no risk to your wallet!
(Note: Studio 2 is not available with the Gamer subscription. You'll need to choose the Creator plan).
Once you've created your account and signed in, you'll be prompted to add a display name and choose your A/V settings.

     
    3. You will be sent to the Green Room, which looks something like this:
4. It's time to connect your platforms! Lightstream allows multistreaming on popular platforms, including Facebook, YouTube, and Twitch. However, you'll note that there is an option to stream to an RTMP destination. This is how you'll connect to platforms such as Switchboard.Live, which you can learn more about in this article.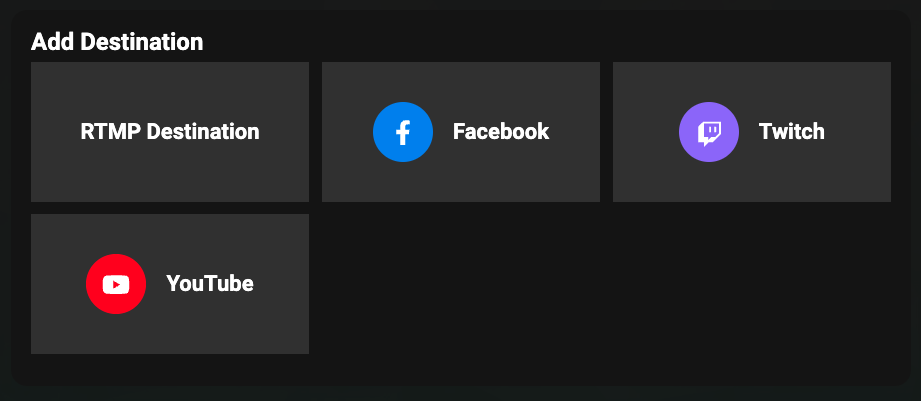 5. Choose your platforms, toggle them to the 'On' position, and go live. It's that simple!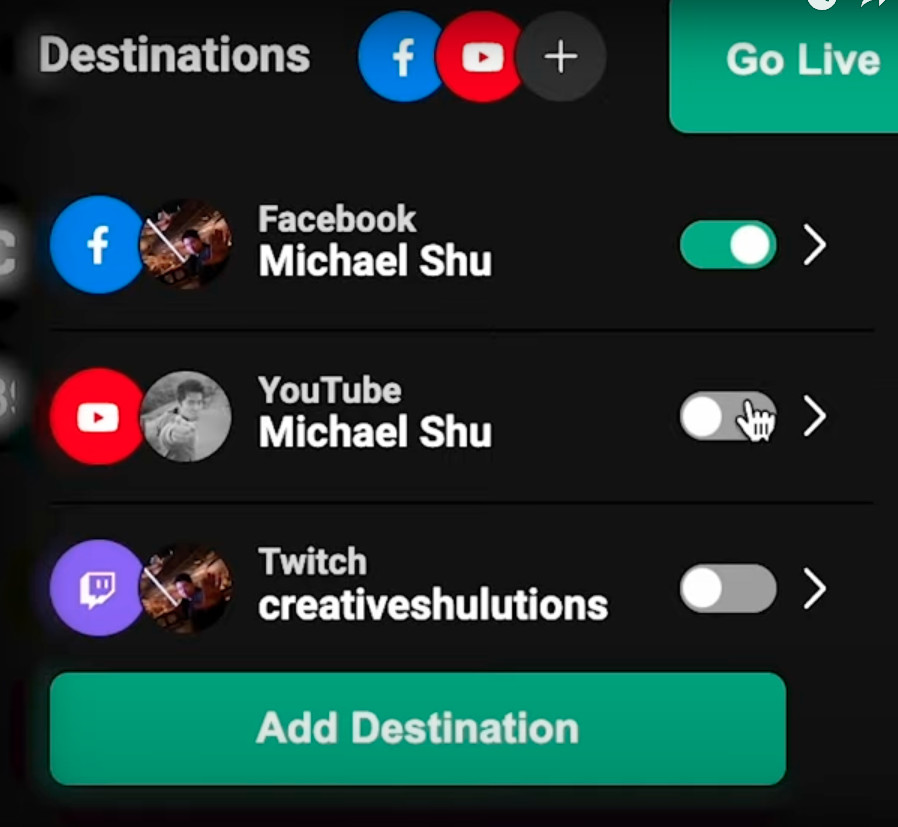 If you're looking for a stress-free method of multistreaming that doesn't require additional software, Studio 2 is perfect for you.

The platform comes with a suite of powerful tools to help take your stream quality up a notch.
Other Platforms to Use for Multistreaming
Multistreaming has become a trend in recent years as more people realize the benefits of live streaming on multiple platforms. In response to a sudden uptick in demand for multistreaming platforms, many companies are creating software that makes it easy to go live on multiple platforms.

Many users link Switchboard.live with Lightstream using the latter's Custom RTMP Destination option. Switchboard lets you simultaneously stream on Facebook, Twitch, Vimeo, YouTube, LinkedIn Live, and Twitter.

There are several platforms to choose from. Once you've learned how to multistream, it all comes down to your preference, but there are a few key factors you should think about as you browse the options:
Does the platform allow you to stream to all of your desired audiences?
Can you customize your stream within the same application?
How much does it cost compared to other tools of similar quality?
You can purchase a tool that allows you to multistream or sign up for a cloud-based solution that does it all.

Lightstream covers all bases, from personalizing your stream to giving you complete control over your live broadcast.
Is Multistreaming Worth it? – Yes!
By using an all-in-one platform such as Studio 2, you have everything you need to run your stream (overlays, guest features, automatic layouts, and, of course, multistreaming!) – all in one place for one price!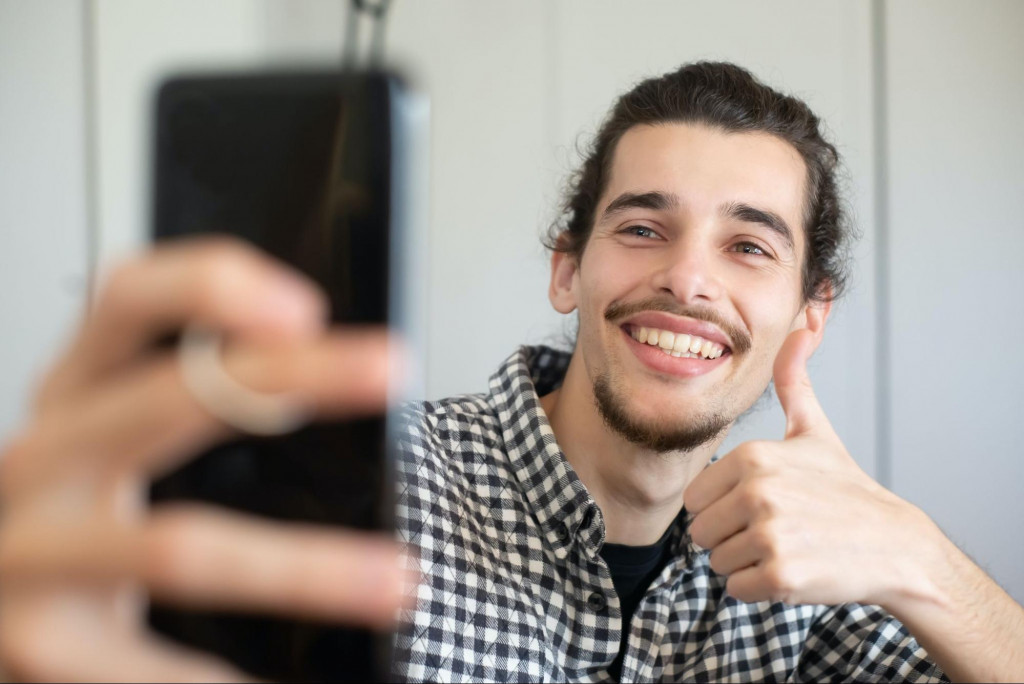 Now that you know all the facts, should you take the plunge and learn how to multistream?

Considering that most of the disadvantages outlined above can be overcome with proper planning and preparation, we still believe that the pros of multistreaming outweigh the cons for most streamers.

If you're serious about streaming and growing your channel, multistreaming is worth considering. Take things slowly at first, then gradually increase the number of platforms you're streaming on as you get more comfortable with the process.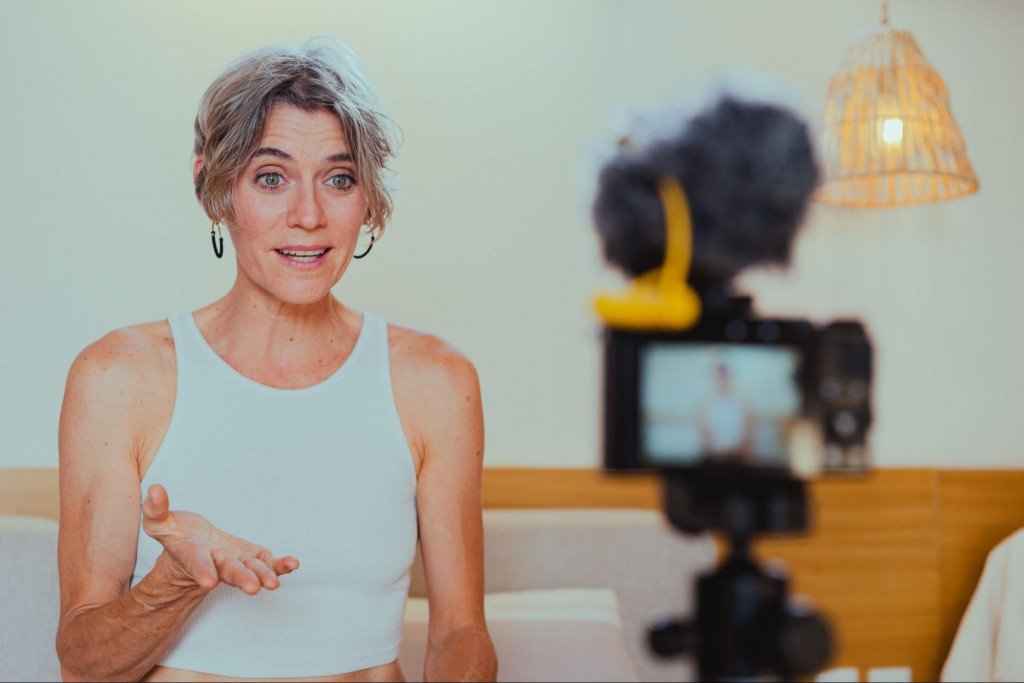 What Platforms Can You Stream To?
Pretty much all platforms support multistreaming in some capacity! Here are the most popular platforms for streaming and how you can multistream on each one:
YouTube Live
As one of the most popular destinations for streaming content, it's no surprise that YouTube supports multistreaming.
In terms of who should stream on YouTube, keep in mind that the audience there tends to be different from that on other platforms.
YouTube viewers are typically more engaged and willing to watch long-form content. So if you're thinking about starting a podcast or doing some educational streams, it might be worth considering YouTube as your primary destination.
Twitch
The king of streaming platforms is one of the best places to multistream. You can stream on Twitch from about any platform, as its popularity has resulted in excellent support for multistreaming.

Twitch is the perfect platform for those looking to build a career in streaming. Most professional streamers have their primary channel on Twitch, and if you're looking to make streaming your full-time job, it's definitely worth putting your focus there.
But it's also a great place to stream any other content casually!
Facebook Live
Facebook has been making a push into the world of streaming over the past few years, and its live streaming platform – Facebook Live – now supports multistreaming.

Facebook isn't the first platform you should think of when it comes to gaming. But for professional streamers trying to build their brand or for influencers wanting to interact with their fans, it can be a great destination. Note that there's also a Facebook Gaming app for gamers wishing to tap into the Facebook audience.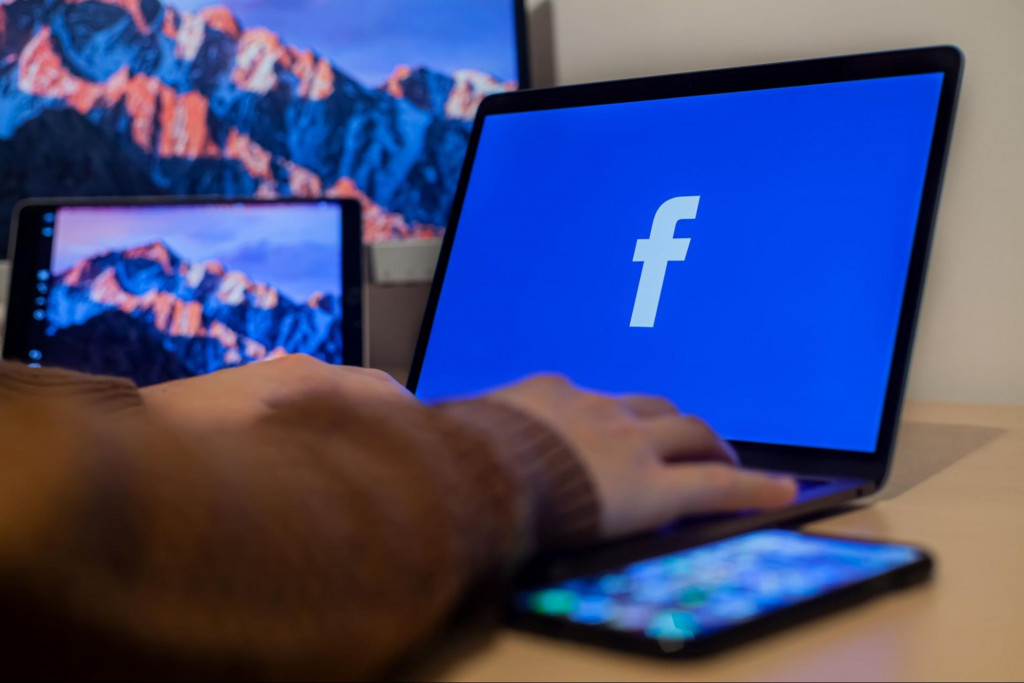 Instagram Live
Very similar to Facebook Live in terms of features and functionality, Instagram Live also supports multistreaming. It's the platform that streamers used most often in 2021.
It is perfect for those who already have a big following on Instagram and want to engage with their fans in a new way. Remember that the content you stream on Instagram should be shorter and more fast-paced than on other platforms, as that's what its audience is used to.
Mixcloud
If you're a DJ or music producer, Mixcloud is one of the best places to share your music and connect with fans. Now that they've added live stream support, you can also multistream your work on Mixcloud!
Mixcloud is a great example of the wave of niche platforms popping up in recent years. While it may have a relatively narrower reach, it's still an excellent place to connect with your target audience.
Twitter
Periscope was Twitter's live streaming app for a while, but they've since rebranded it as Twitter Live and integrated it into the main Twitter platform. It means you can stream live videos straight to your Twitter followers without having to download a separate app.

Twitter is perfect for those who want to share their content with a large audience but don't necessarily want the pressure of having to perform for an extended period.

Twitter streams are typically shorter and more spontaneous than other platforms, making them perfect for quick announcements or impromptu Q&As.
As you can see, different platforms are useful for different purposes. Each one's audience is accustomed to certain types of content.
So don't get caught up over which platform to select – Twitch vs YouTube or Instagram vs Twitter or LinkedIn Live – multistreaming on various platforms is how you get your content in front of as many people as possible.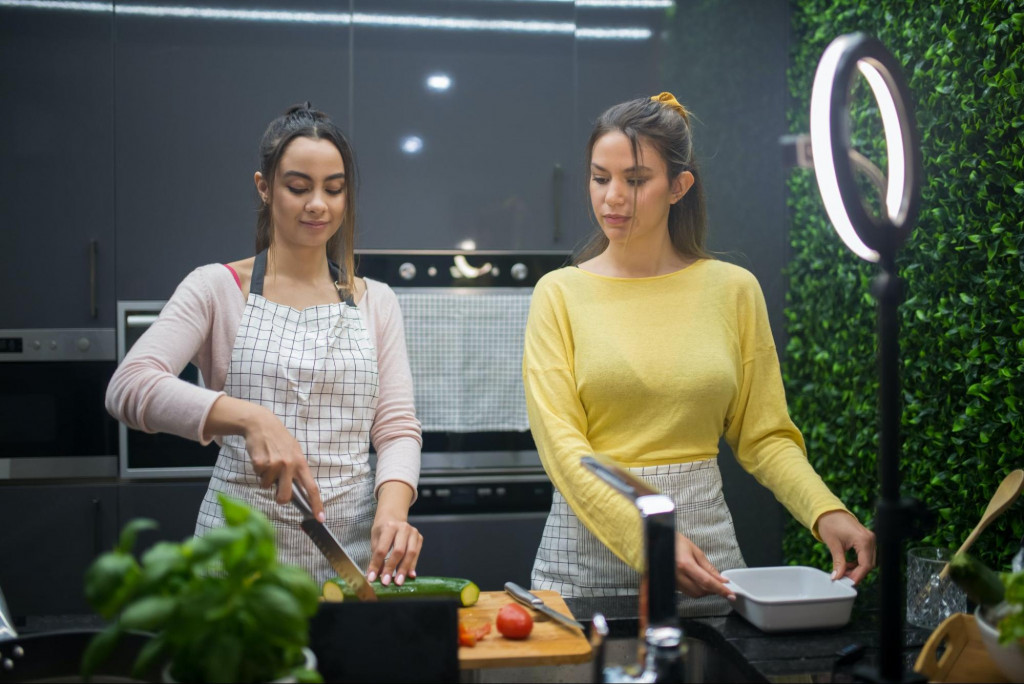 How to Multistream: Why it Matters!
In the days when live streaming was relatively new, it seemed crazy that people on the other side of the planet could see and hear you in real-time. It's incredible to think about how technology has progressed in such a short amount of time.
We can now not only live stream on multiple platforms, but we can also do it in high definition. And it's making a splash, alright. According to recent predictions, the video streaming market will be worth $330 billion by 2030.
If you're looking to learn how to multistream, remember that half of the battle is finding the right tools and platforms to accommodate your streams! On that front, Lightstream is your ticket to creating an engaging and aesthetically-pleasing live stream that's sure to draw in viewers from all corners of the internet.
We hope our guide has given you an understanding of how to multistream, from the platforms that support it to the best software for the job. If you want to reach a wider audience quickly, check out Lightstream's Studio 2, start for free, and see how easy it is to grow your brand!