In our post-pandemic world, many people are steadily getting habituated to avoiding meeting in public. Fortunately, it can work to your advantage. A fast-growing audience prefers to attend events from home, digitally. Take church services, for example. The trend of attending church events via live stream is growing. This article explores this subject closely and guides you on church live stream setup and how you can get started.
The article also guides you on how to use a trusted and super-easy streaming service such as Lightstream's Studio 2 to broadcast church events without needing additional equipment and software. Unlike other streaming software and platforms that require you to invest in gear, software installation, and an elaborate setup, all that Studio 2 needs you to have is a good internet connection, that's it!

With Lightstream Studio 2, you can livestream your church event to all your favorite social platforms at the same time.
Why You Should Live Stream Church Events (Key Benefits)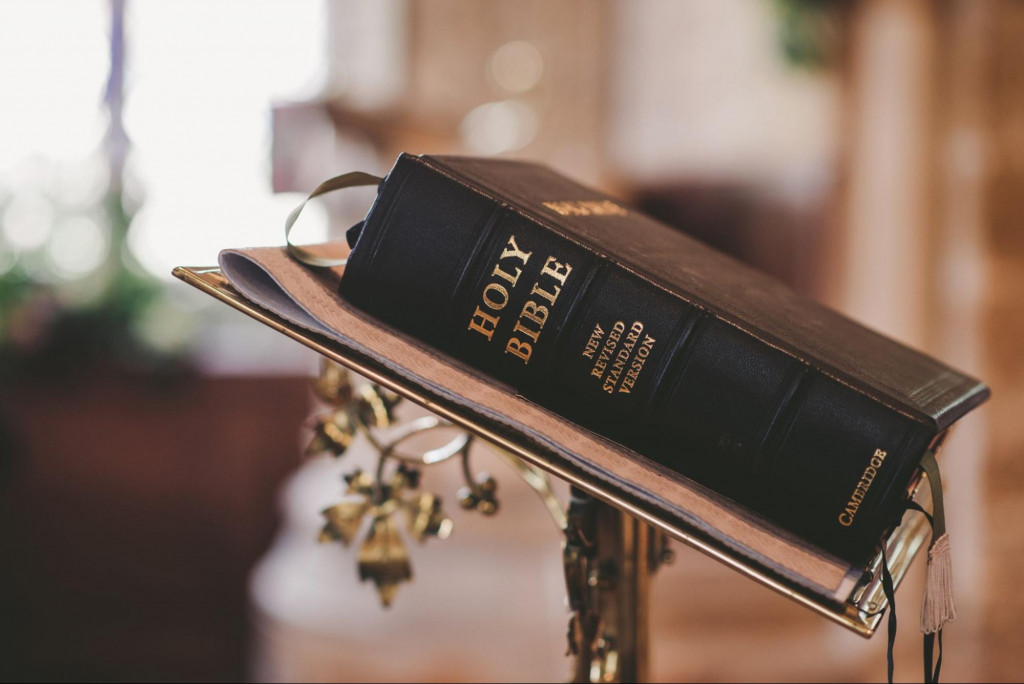 You should consider live streaming your church service, as there are multiple benefits. For one, broadcasting your church service allows worshippers who otherwise may not be able to attend to watch the event still and participate. Any church members who are sick, out of town, or otherwise incapable of coming to the service in person will be able to see your service if you live stream it.
Live streaming your church service is also a great way of bringing in new congregants. You can make the broadcasts more engaging by featuring guest speakers who otherwise may not be able to visit your church in person.
Additionally, live streams can be a great way of bringing in more donations by broadcasting church events to far and wide audiences. It may result in members donating more to the church than before.
Church Live Streaming Setup: What You'll Need If You're Not Using Lightstream!
Before you start live streaming, you'll first need the proper tools and equipment to get started. Live streams usually require a lot of equipment such as cameras, tripods, microphones, proper lighting, and much more – just a good internet connection isn't enough.
As discussed, Lightstream's Studio 2 eliminates the need for expensive streaming software and hardware, such as switchers, etc., and greatly simplifies the live streaming process for a low monthly cost. But those who don't use Lightstream must carefully put together all the equipment required for a proper church live stream setup.
Choosing a hassle-free streaming service is a smart thing to do because those who don't use that will need many of the following gear for a church live stream setup:
Computers

While it's easily possible to simply stream your church service with a smartphone, we recommend broadcasting via a computer as it will offer far more control options and provide a higher level of quality. You can easily use a laptop or desktop computer for this, depending on your church's setup. Just make sure you don't use something too old or outdated, as it will affect your live stream due to slower speeds.

We recommend only using a computer if it's roughly five years old or less with at least 4GB of RAM storage. If you decide to use Studio 2 for your stream, you won't need a very powerful computer as the stream is run directly via a web browser.

Cameras

No church live stream setup is complete without a decent camera. There are many streaming cameras for church events that you can pick from. You're free to use a webcam, DSLR, camcorder, action camera, and more.

There are many options, and you really can't go wrong with any of them. While webcams are the highest quality option for broadcasts, they certainly are the most affordable, so those with limited budgets may want to choose a webcam. You can find a great webcam for around just $100.

Those who own a DSLR can easily use it as a webcam with a simple converter that will allow for incredibly high image quality for streams without needing to invest in a high-end camera. Overall, there's lots of streaming cameras for church live streams that you can choose from.

With Lightstream's Studio 2, you can easily use your smartphone or other hardware with cameras, in case you want to keep it simple.
These are our picks:
Lighting

Even with a good camera, poor lighting can result in bad video quality. Ensure that your church has decent lighting, whether it be natural light or interior lights. If your church live stream setup currently has poor lighting, then you may want to invest in additional lights or even film lighting to get the optimal video quality.
Tripods
For most church services, cameras will likely be placed on one spot for most of the time. As a result, it makes sense to invest in a tripod to eliminate the need for someone to hold the camera constantly. Tripods are perfect investments for those looking to get steady shots. While many cameras come with tripods, they're usually not of great quality.

You should be able to get a great tripod at around the $100 range. We recommend getting something mid-range, so that it doesn't break the bank but will still last you. You could check out Oben CTT-1000.
Microphones
Perhaps the most important piece of equipment you'll want to get right to provide a satisfactory church live stream setup is a microphone. Sound is essential when you're live streaming, so you should ensure that you purchase a high-quality microphone.

While smaller broadcasts can usually get away with using basic microphones, broadcasting your church's service will require a higher-quality mic. You should pick a trusted microphone that offers good sound quality, so that the pastor's message is audible during the broadcast.
XLR Mic – Shure SM58
USB Mic – Blue Yeti
HDMI Cable and Extender
If your computer happens to be far away from the rest of your church live stream setup, then you will need an HDMI cable and extender. These are generally quite affordable and easy to set up.
Video Switcher
If you want to shoot on more than one camera, you will want to purchase a video switcher to switch back and forth between cameras during the live stream. There is a range of different video switchers, but we recommend getting something mid-ranged in price.
Video Switcher – BlackMagic ATEM Mini
Encoders
A video encoder is a piece of equipment that will convert raw video footage into viewable content for one's live stream. There are two kinds of encoders: software encoders and hardware encoders. Software encoders are more popular among beginner streamers as they are quite affordable. They have many customization options and are cheaper than hardware encoders.


Hardware encoders are great as they handle all of the encoding without making PCs work harder by using additional computing power. As a result, your stream will run better and without any issues. They are also very easy to set up. A major downside is the higher price of hardware encoders, and they don't offer many customization options.

To live stream, you will need to have high bandwidth, which directly has to do with your internet speed. Low internet speeds result in poor bandwidth, affecting a stream's quality – low video resolution, freezing, loading, or disconnecting altogether. Generally, you will need bandwidth of at least 3 to 15 Mbps if you want to stream at 1080p resolution. For streaming at 4K resolution, you will need at least 30 Mbps bandwidth.
Two Most Popular Live Streaming Platforms
Facebook Live
It is an excellent platform for live streaming your church service as it is straightforward and very easy to set up. Those who want to reach out to friends and family should choose Facebook, as the platform already has built-in users or audience. Churches have the ability to stream directly from their Facebook page, so that any one who has liked or followed the page will see the stream pop up on their feed, which makes it easier for streams to be easily discoverable and viewable.

Additionally, it is incredibly easy to stream on Facebook with just your smartphone. So if you are technologically challenged or simply don't wish to set up a stream on your computer, Facebook's mobile streaming feature is a great option.
YouTube Live
YouTube is the largest and most popular video-sharing platform. It is one of the most popular live streaming platforms. YouTube Live is a great platform for streaming your church service because of its many features and the fact that it can be shared very easily.
Hassle-free Streaming Service for Your Church Events
Apart from eliminating the need for a complex setup, Lightstream's Studio 2 supports multistreaming, which is the process of broadcasting on multiple platforms at the same time. So, give Studio 2 a shot to minimize the hassles of live streaming and focus on the broadcast.
Getting the streaming setup right is the key to making the live broadcast successful. With Studio 2, you can stream directly from a web browser, and it also packs in pre-made notifications, themes, and more for your stream.
How to Live Stream a Church Service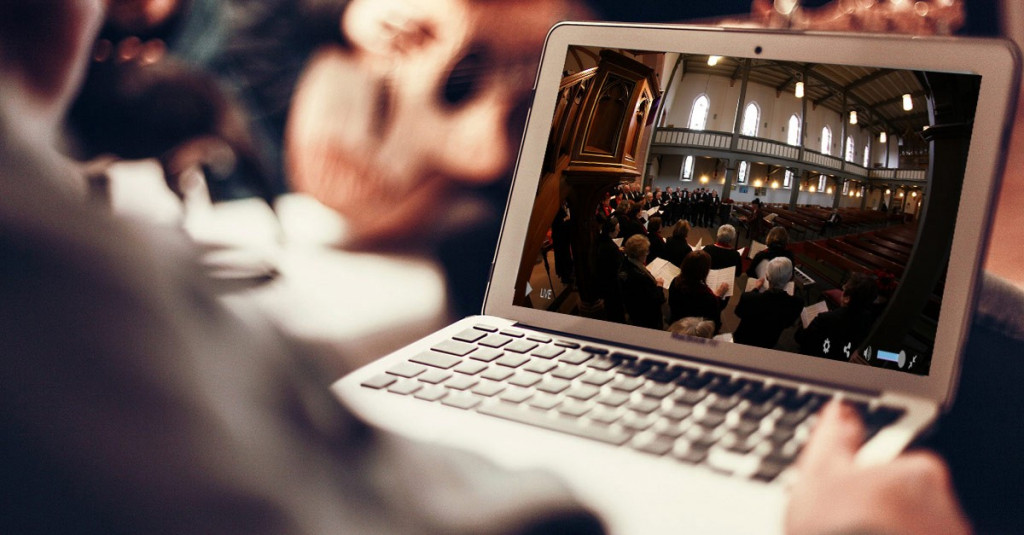 Live streaming your church service on Facebook is easy. To get started, you will need a Facebook page for your church. Once you have a Facebook page, go to your page, scroll down to the Create section, and click on the button that says Live, which should be the first option.

You can also easily schedule a live stream. However, this won't work for recurring events (as in, you can't make live streams automatically take place every Sunday at 8am). Once you're finished with your stream, just click on the End stream button. Streams will be automatically saved onto your page's timeline.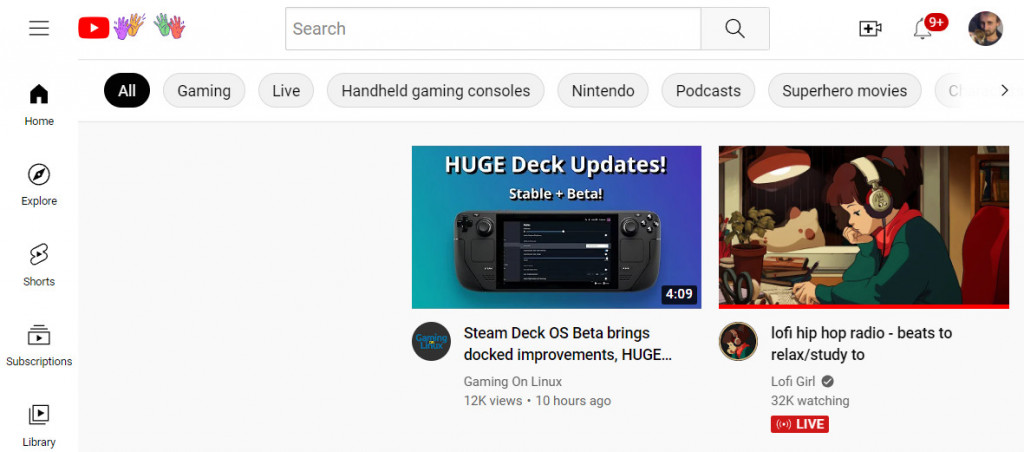 Streaming on YouTube is also a very easy process. Just like Facebook, you can easily schedule live streams on YouTube, but there's no option for scheduling recurring streams.
To stream on YouTube, you'll first need to click on the camera icon in the upper right corner of the screen and select Go Live.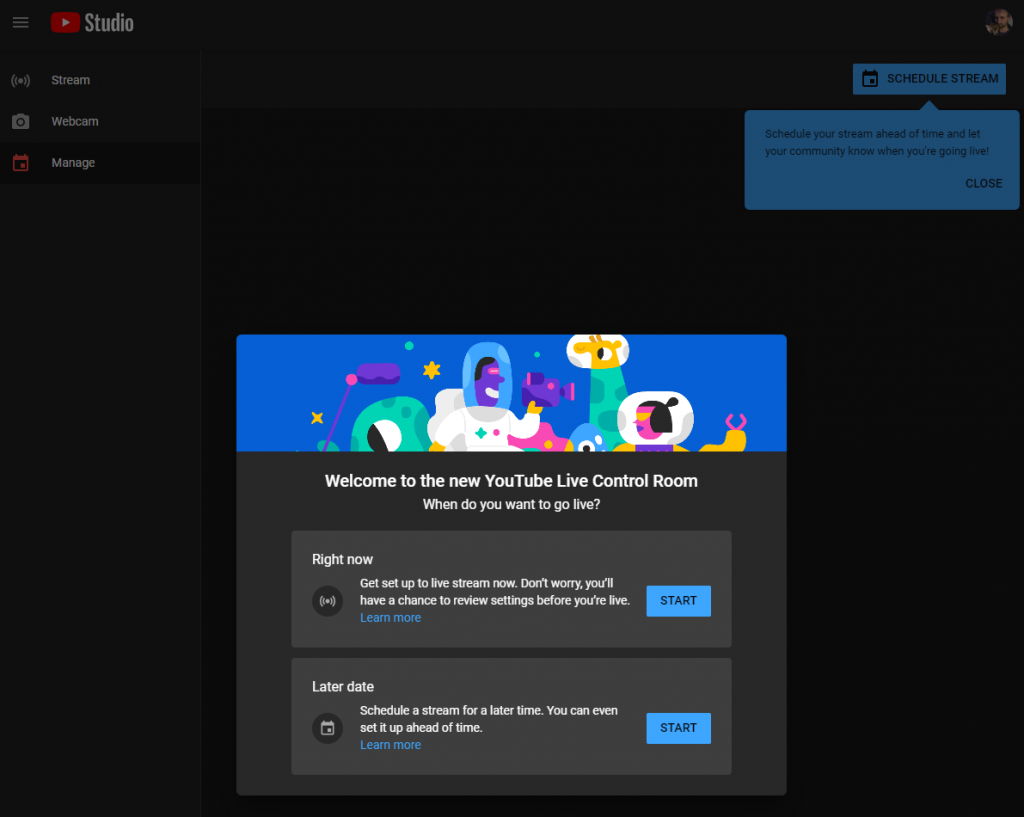 Next, you'll get to choose between whether you'd like to stream right now or later.

After that, you'll have to create a title and description for your live stream, select the category of the stream, whether it is intended for children, and select a thumbnail. Finally, you'll need to select the microphone and webcam you want to use for the stream. Click on the Go Live button and you're good to go!
Top Tips: Give Your Live Stream a Boost
Here are some helpful tips if you want to boost your church live stream.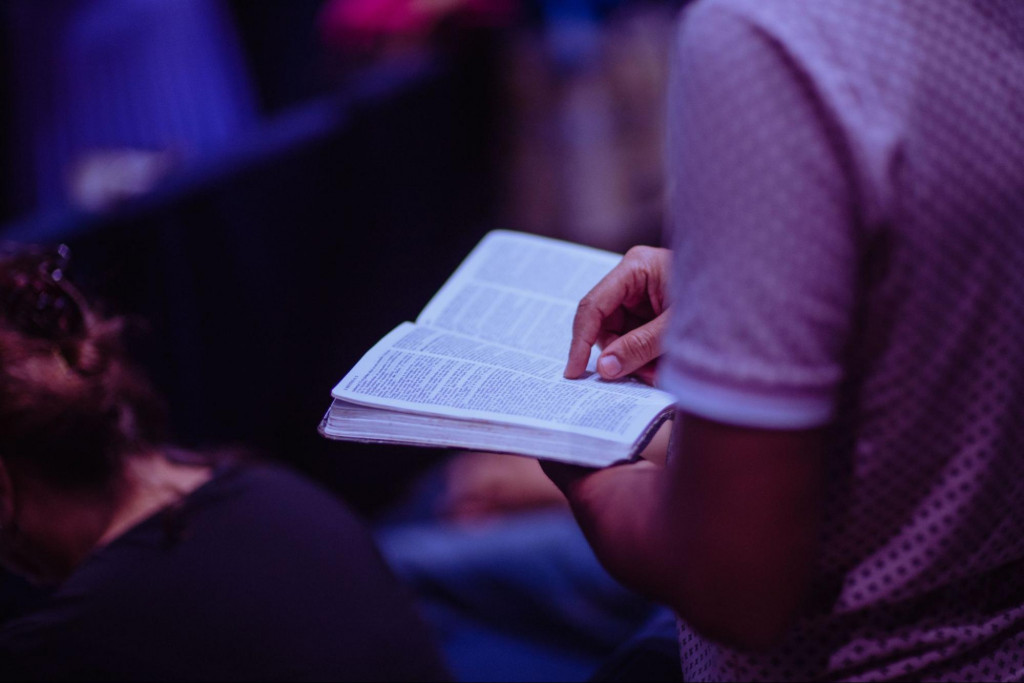 Start Small
It's important to start small and adjust things as it goes. Don't spend thousands of dollars on streaming equipment only to realize that maybe streaming isn't an excellent fit for your congregation. Start things small so that you can grow from there. Studio 2 fits in perfectly with this approach.
Do a Test Run
Always, always, always do test runs! With so many moving parts in live streams, it's important to test things before your first official stream. Things such as microphone volume levels, camera angles, and lighting may all require a bit of tweaking and tinkering before they're ready.
Use Gear Where Required
If your congregation is small, you may not need super expensive equipment for live streaming. Alternatively, if your church is quite large, then it's likely that a smartphone isn't going to cut it, and you may need to invest in a solid microphone and camera. It's important to identify what equipment your congregation's live stream will require, and test it to see how it performs.
Try Multistreaming
If you want to reach as many people as possible with your live streams, you may want to try multistreaming. You can broadcast onto platforms such as Facebook, YouTube, and Twitch – all at the same time. You can try out Studio 2, a great multistreaming service and ideally suited for seamlessly broadcasting church events on multiple platforms.
Church Live Stream Setup: Now You Know it's Easy
So, now you know how to live stream your church events and what you need for a church live stream setup. More importantly, this guide hopefully clarifies how essential it is to try live streaming using a hassle-free service that doesn't require expensive and complicated tools and software.
Lightstream Studio 2 eliminates everything, from the need for a software download and installation to understanding what encoders are to buying expensive gear. A good internet connection is good enough to get your church events streamed to audiences far and wide!