Earn rewards when a friend, family, or some internet stranger signs up using your Referral Link. 
How does it work?
You earn a $4 credit each time you refer someone to Lightstream and they receive a 25% discount off their first month for signing up using your referral link.
Where do I find my referral link?
Under the settings drop down in the top left of Lightstream you will now see a new menu option called "Earn Rewards". You can provide this link to your friends to sign up with Lightstream.
You will see a little popup and that's the link that you give out!
How do I share this out?
Let us help you out with this.
We have provided you with a couple of images to use on your stream and to share on your socials!
Stream Overlay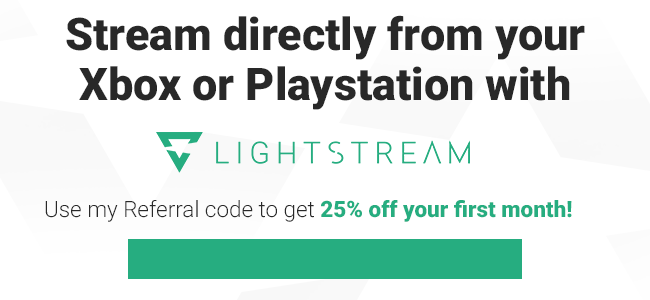 Download First Image
Download Second Image
Throw this up on your streams, use a service like Rainmaker to help give you an edge in this contest. We added a small area where you can edit your link into. If you're curious what font we use, it's "Roboto Black".
Here are some additional tips.
Display it on your stream
Display it on your information panels that connects to your personalized Referral Link
Create a timed message to promote your Referral Link in your chat
Tell people why you love Lightstream and why you think people should use it. Let me help you out.

Overlays & Alerts to help grow and engage your audience
Professional looking stream without the messy cables and expensive equipment
Cheap & affordable
Made by really cool people who care deeply about gaming
Am I limited to how many people I can refer?
We wouldn't want to hold you back from spreading the word, refer as many people as you like!
When do I receive my credit?
The credit gets applied to your Lightstream account and will automatically apply to your next payment. Credit only will appear if the referred person pays for an Lightstream subscription after their trial.
Will I receive a credit for friends that I referred to Lightstream before?
Unfortunately the credit cannot be applied towards any referrals prior to the launch of the rewards program.
Can I use a referral link and a Partner code or other discount codes at the same time?
Unfortunately no, we do not allow the ability to double down on discounts at this time.