Leaderboard
Top Referrers(Currently Tied)
Thanks to everyone who have participated so far. You still have a chance to get in the lead!
Wonder what this leaderboard is for?
Now, until April 1st 12:00am CST when someone (lets say a friend or a cat) buys a Lightstream subscription using your referral link, you will automatically be entered into the March Referral Contest.
What can I win?
The Top Referrer receives a $500 Amazon gift card.
The person with the 2nd highest referrals receives a $100 Amazon gift card.
How to find your referral link?
Easy, log into your Lightstream account and find the Earn Rewards button. Here's a quick gif to show you where to find it.
You will see a little popup and that's the link that you give out!
How do I share this out?
Let us help you out with this.
We have provided you with a couple of images to use on your stream and to share on your socials!
Stream Overlay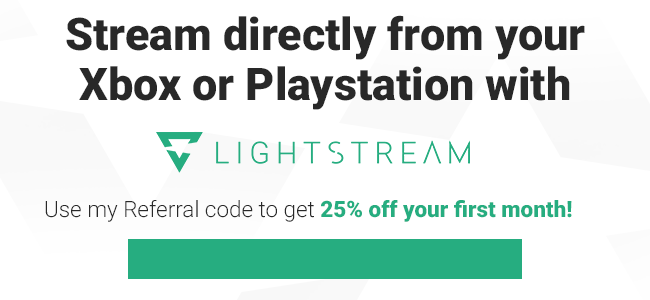 Throw this up on your streams, use a service like Rainmaker to help give you an edge in this contest. We added a small area where you can edit your link into. If you're curious what font we use, it's "Roboto Black".
Here are some additional tips.
Display it on your stream
Display it on your information panels that connects to your personalized Referral Link
Create a timed message to promote your Referral Link in your chat
Tell people why you love Lightstream and why you think people should use it. Let me help you out.

Overlays & Alerts to help grow and engage your audience
Professional looking stream without the messy cables and expensive equipment
Cheap & affordable
Made by really cool people who care deeply about gaming
Share on Your Socials
Use this to Tweet, Fleet, IG Story, LinkedIn, Tik Tok, or Facebook post.
Make sure to include your Referral Link in the post
Tag friends that you think may be interested in it
DM them directly
Do something creative and tag @Lightstream, who knows maybe we will retweet your post.
Our referral program in a nutshell
Referrer receives a $4 credit on their account
The person referred receives a 25% discount on their first month's subscription
So basically it's a win-win for everyone and you get entered into the contest to win a stacked Amazon gift card.
For more information on our referral program, hit up our other blog post about it.
What else do you need to know?
You must be an active Lightstream Subscriber
US residents only (sorry)
We will announce the winners on April 13th on our Twitter account. The winners will be contacted shortly afterwards.
Please go through the official rules and eligibility. See Legal Copy for full contest details.
That's it!
Happy referring, everyone.