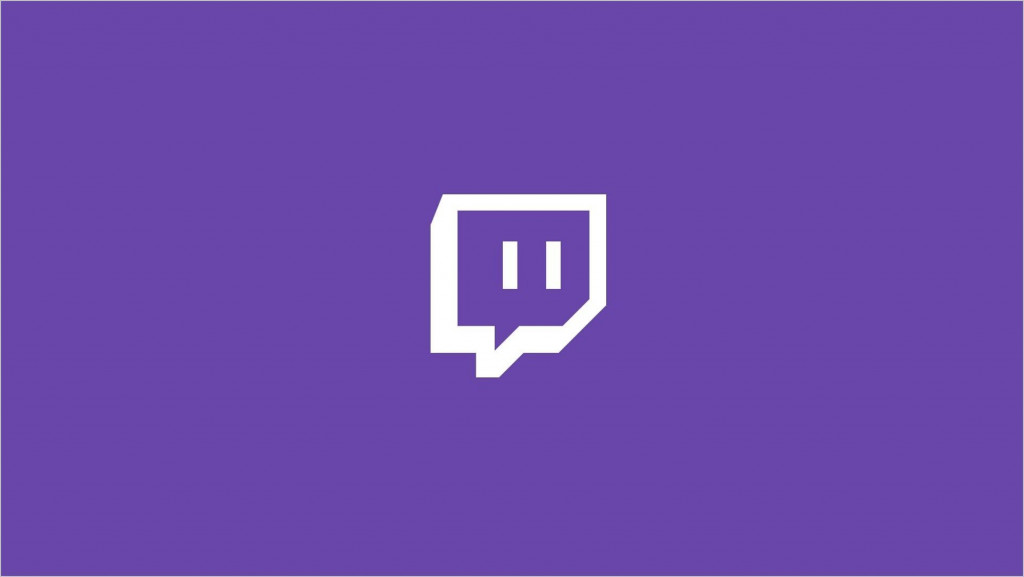 Going through all of the right steps to stream on Twitch can be a humongous challenge, with so many elements that need sorting out. Mapping out a stream schedule, writing a catchy bio, and physically setting up your stream gear, all of it takes time and effort. But before completing the aforementioned tasks, you may want to first start with creating your channel's banner, selecting a profile picture, and an overall theme.
Twitch banners and twitch profile pictures are the first things that viewers will see when visiting your channel, so it's important to make a good first impression. Banners should fit a specific aspect ratio and dimensions, in order to look as great as possible and sell your brand as something worthy of viewers' attention. Let's break down everything that you should keep in mind when creating the perfect Twitch banner for your channel.
What is the Best Twitch Banner Size?
According to Twitch, the recommended Twitch banner size is 1200x480px. It's stated that if your profile is taller or shorter than 480px, it will automatically be stretched to that specific size. In order to keep your profile banner looking its best, users should stick to the recommended Twitch banner size dimensions.

Want to stream to Twitch as well as other social platforms simultaneously to multiply your views? Studio 2 is your best bet. No downloads. No costly gear. Just log in and stream.
Different Types of Twitch Banners
ggGibi's video player banner is a great example as it features nice artwork, social media handles, and is easy to read and understand.
Profile Banners – This is the main banner for your channel and is displayed in the background of your Twitch channel page. It is typically used to establish what sort of channel you are. Are you a retro gaming channel that mostly focuses on Super Nintendo? Maybe feature some 16-bit pixel art that shows viewers that you stream those kinds of games. Are you into competitive online shooters? Then you should style your profile banner to best reflect that genre of gaming
Video Player Banners – Also sometimes referred to as the offline screen, this secondary banner is what viewers will see on the streaming page whenever you are offline. The video player banner is very important, as it must communicate to viewers that you are offline while still remaining on-brand for your channel, and looking pleasant.
Great streamers will take advantage of their video player banner by featuring some catchy art, their social media handles, and display it in an attractive and easy-to-read fashion.
How to Create a Twitch Profile Banner for Free?
Snappa is an easy, free service for making simple graphics like Twitch profile banners.
Streamers can create a Twitch profile banner relatively easily, with many free options available. Creating a profile banner requires little to no artistic skill, with tons of free programs available online that will guide you every step of the way. Some programs that we recommend include Snappa, Placeit, Colorcinch, and Fotor. They're all very easy to use, and allow you to customize your banner to your liking.
For example, Snappa is a straight-forward web tool that takes just a few minutes to use. All within the web browser itself, users can pick from thousands of pre-made templates to use for their banner. After selecting a template, users will then be able to type whatever text they wish, with different font types to choose from as well. What makes Snappa and the other recommended programs so great is the fact that none of them require any artistic skill, and are incredibly easy to learn and use.
What is the Proper Twitch Profile Picture Size?
Your Twitch profile picture is the small image that will appear next to your name, below your Twitch profile banner. The official recommended size for Twitch profile pictures is 256×256 pixels, however we recommend sticking with 800×800 pixels as this will result in a higher resolution and avoid your picture looking blurry.
Best Tools for Creating Twitch Profile Banners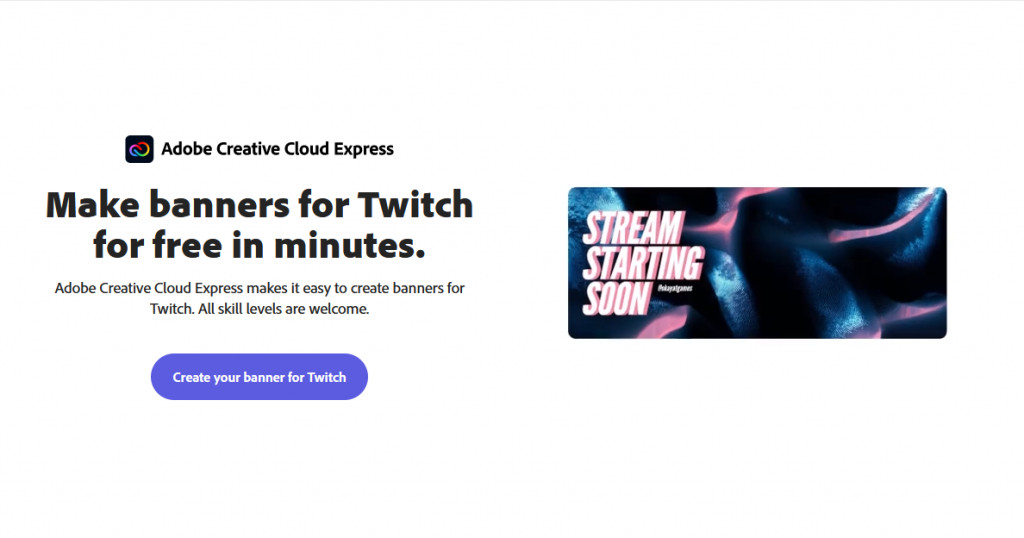 Adobe Creative Cloud Express is the perfect program for the less experienced.
There are several great tools available online for creating a Twitch profile banner, with both free and paid options. For those looking to save their cash and wanting to make a simple banner at no additional cost, we recommend Canva or Snappa. Both of these sites feature tons of banner templates and are a great option for brand new streamers just looking to get their channel started quickly without investing too much money.
For those who are willing to invest a bit of capital upfront for a Twitch profile banner, there are many options out there. We recommend taking a look at some of the talented artists at Fiverr, who can create unique banners for your channel quickly and affordably. Etsy also has a great selection of customizable banners. With these services, you can pay artists to hand-craft banners for you from anywhere between $5 to $500. This is a great option for someone that knows exactly what they want, but doesn't have a ton of artistic experience.
If you're an artist who is feeling a bit more adventurous, you can try your hand at creating your own Twitch banner with programs such as Adobe Creative Cloud Express or Adobe Photoshop. Adobe's creative applications like Photoshop are very advanced, but also quite expensive ($240 per year), require some artistic skill, and are generally much more work. However, they can allow for creating unique designs if you happen to have past artistic experience. Additionally, Creative Cloud Express is a far more simplified and streamlined web browser-based version that is perfect for beginners and works similarly to Canva and the aforementioned Snappa. It takes only a few minutes, is very easy to learn, and is free to use.
Examples of the Best Twitch Banners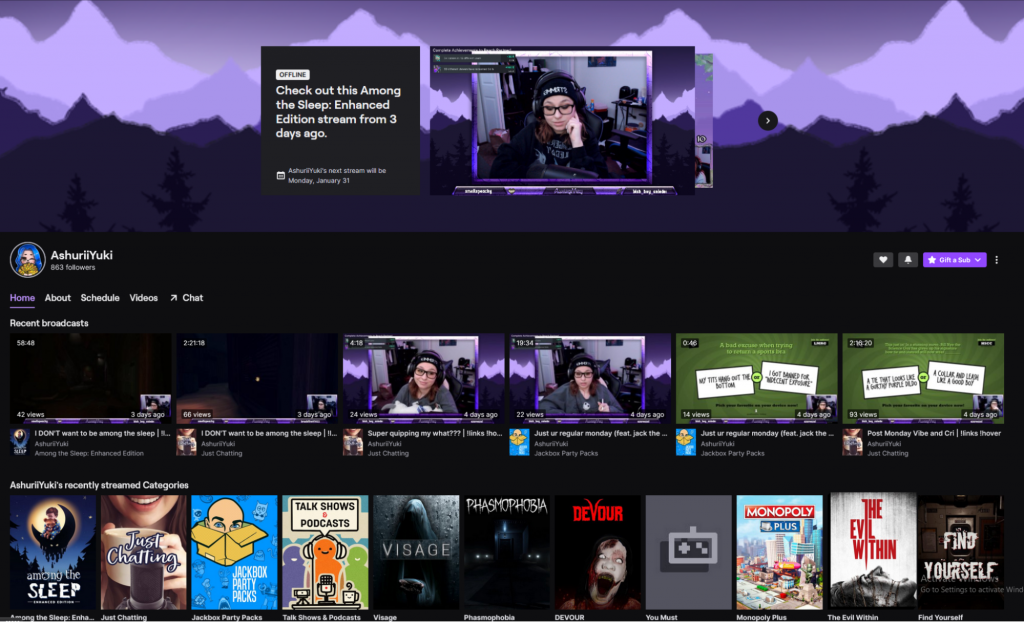 Ashuriiyuki's channel features a profile banner that reflects the mood and genre of the games that she typically plays, which mostly consists of horror.
There are many examples of great Twitch profile banners, with the aforementioned banner by ggGibi being one that succeeds on many levels. What makes her Twitch banner so great is the combination of simplicity (it is very easy to look at), consistency (everything follows a color scheme and works with her brand's overall look), and art style (the artistic direction is very good).
As another example, take a look at Ashuriiyuki's banner above. Her channel's banner is a simple image of purple mountains. Though it is simple, it is very good because it fits well with their color scheme and theme. Simple Twitch banners that are visually pleasant and fit with a streamer's brand are the best, as they do their job without distracting from a channel's content.
Best Practices for Your Twitch Channel
If you want to create a great Twitch profile banner, then you'll want to take note of a few tips that will ensure it looks great and gives viewers a great first impression of your channel. Here are a few important practices that you should keep in mind when creating your Twitch profile banner:
Feature relevant colors, icons, and photos – Twitch profile banners should reflect the mood, style, and tone of your channel, through the use of a relevant color scheme, icons and photos. Picking a consistent color and style across all of your channels is very important – this will better serve your brand in the long run, and allow your viewers to become familiarized with you and showcase your personality.
For example, streamer Ashuriiyuki's banner features dark shades of purple that perfectly reflect the melancholy mood evoked from the types of games that she plays – which are mostly horror titles.
Try to minimize text use – Too many words on your profile banner can make it look cluttered, messy, and downright unprofessional. Try to minimize the text usage on your banner, and feature nice images or icons that reflect your channel's theme.
Some streamers attempt to write entire sentences on their channel's banner, but this looks unprofessional. Instead, you should save words for your channel bio and limit your banner to imagery.
Stay consistent – Consistency is important, as it will help build your personal brand and give viewers a better understanding of your own personality. For example, channels that lack consistency feature unclear color schemes, artistic styles, or tonal shifts.
So for instance, if you pick a rainbow-colored character image as your profile picture, make sure that your profile banner and video banner are also rainbow-colored or in a similar artistic style. Your brand should look consistent, and feature a similar style across your whole channel.
Make sure the banner is intact on all devices – By this, we mean that you should make sure that your banner fits the proper aspect ratios on all devices (desktop, mobile, and tablet) and none of the elements get cut off on certain devices. To ensure that this doesn't happen, try to avoid placing any text or images within the corners of your profile banner.
Remember that less is more. A great profile banner doesn't need to look complicated, and sometimes basic banners can get the job done just as well as one that's complex.
Some Twitch streamers just feature their channel logo with a solid colored background as their Twitch banner, which is perfectly fine.
Pick a theme and stick to it. This means that you keep to a consistent color scheme and art style across your profile banner, profile picture, video player banner, and your live stream itself. This will help you in the long run.
Final Thoughts
We understand that creating a Twitch channel from scratch can be a lot of work, with your profile picture and banner sometimes taking more time than expected. We hope that this post has assisted you with creating a great profile banner, and given you a better understanding of your Twitch channel's theme. Good luck, and happy streaming! Want to invite guests to your livestream session and host interviews on your channel? Here's your chance to do it for free, with our exclusive free gamer trial subscription.