Webcams on Xbox Streams
Whenever you're broadcasting to sites like Twitch, using a webcam to bring yourself on-stream is one of the best ways to connect with your audience. The Xbox One and Series S|X both accept most major USB webcams – simply plug one into an Xbox USB port and you're good to go!
But getting your webcam on-stream is only half the battle. You'll want to create a webcam frame and overlay to help brand yourself, and include alerts and other interactive elements to encourage viewer participation in the stream. But how do you know where to position these elements without covering your webcam?
Twitch's broadcasting app for Xbox has 8 pre-set positions you can select to position your webcam on your stream. But what size is the camera? What is the exact X/Y positioning on your broadcast? These are important questions to answer if you need to design a frame that perfectly fits your Xbox stream. In the case of a phone, learn more about mobile streaming for Twitch and how to do your camera placement with our step-by-step guide.
Webcam Positioning Guide for Xbox
We broadcasted with every possible webcam positioning setting in the Twitch Xbox app to bring you this definitive guide. Save the images below, or download the ZIP file we've provided with Photoshop (PSD) files for both 720 (1280 x 720px) and 1080 (1920 x 1080) resolutions.
How to use this template:
All measurements are in pixels (px)
Resolution and webcam size (width x height) is in the center of the image for reference.
Each of the 8 possible webcam positions are listed in green boxes with their X and Y coordinates (based on the upper left corner)
Follow this guide to make sure your camera is perfectly framed and no other elements overlap your camera!
1080 Template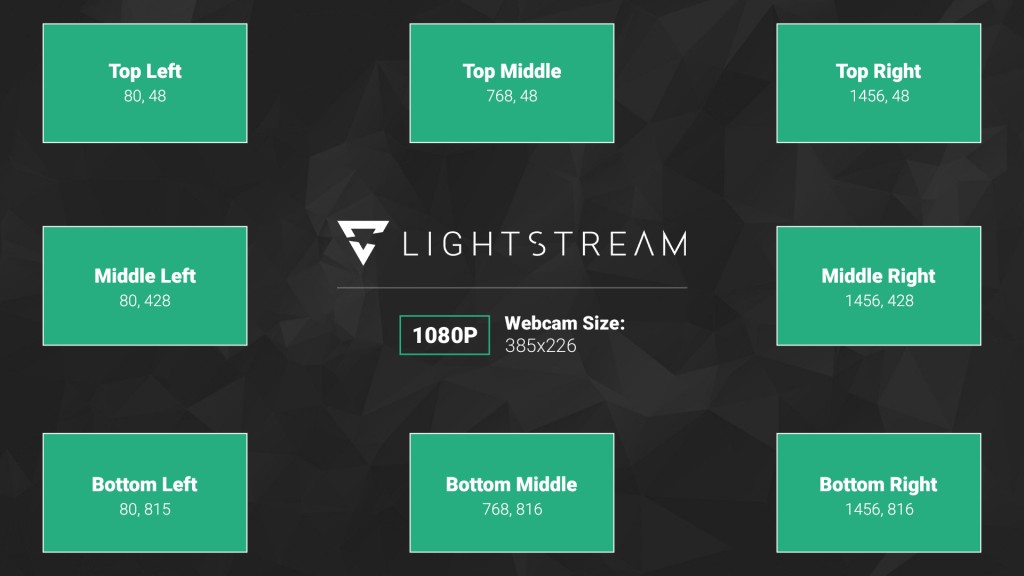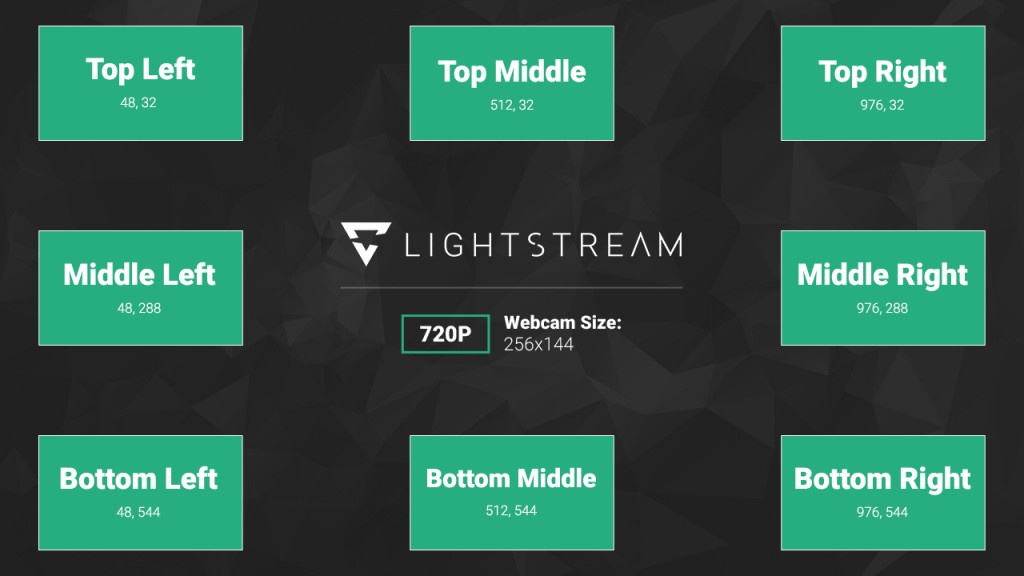 Downloadable PSD Template
PSD and PNG files at both 720p and 1080p are included (3.1 MB).