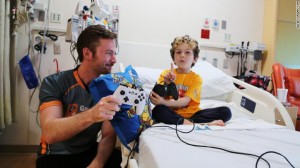 Being stuck in the hospital, especially as a child, can be a scary and stressful experience. Being able to relax and do something you enjoy does wonders to take your mind off your situation. Gamers Outreach is a charity near and dear to our hearts. The organization's focus is to support kids and teens as they undergo treatment in hospitals. Their marquee program "Project GO Kart" delivers portable video game kiosks to medical facilities. The GO Karts fulfill the need for coping tools in pediatric hospitals. Their goal is to aid the healing process by providing relief, socialization, and a sense of normalcy to young patients spending time in the hospital. Not only is the cause great, we love the way gaming is used not just as the vehicle to raise funds, but also plays a large part in the delivery of services. 
Gamers for Giving is a competitive gaming tournament, streaming marathon, and LAN party all wrapped in one. It takes place every spring at the Eastern Michigan University Convocation Center and is one of the primary fundraising vehicles for Gamers Outreach. We're huge supporters of the organization and the event. We're sponsoring again this year and most of our Chicago office is headed to Michigan to participate. 
For those not able to make it in-person, there are some other great ways to contribute and enjoy Gamers for Giving:
Watch, Donate, & Share
Gamers Outreach has an official stream of the event March 23rd and 24th from 12pm – 8pm ET. You'll see tournaments, interviews, and some really funny activities with some of the big name streamers at the event. We heard the fan favorite "Bob Ross Challenge" will be making a return this year!
Do a fundraising stream!
Gamers Outreach has made it super simple to create a fundraising campaign and collect donations. This means it's a snap to start making a difference in the lives of kids and teens struggling with medical conditions. To make your journey from streamer to super hero even easier, we've provided a whole set of resources below to help you get started!
Setting up Donations
Gamers Outreach uses a platform called Tiltify to manage stream donations. What's awesome about this is any money you raise via your own Tiltify campaign this weekend is reflected in real-time on the Gamers for Giving goal tracker!
To get started for G4G, just click this link and sign in using your broadcast platform of choice. If you already have a Tiltify account, simply create a new campaign and find Gamers Outreach in the list of possible charities. Fill out the requested information and your campaign will automatically be linked to Gamers Outreach. Finalize the details of your published Tiltify campaign and you're ready to start raising money!
▷ Create your #GFG2019 campaign
Overlays & Donation panel
While you're streaming, you'll want to show your viewers how you're making progress towards your goal. This is a great way to encourage donations and give everyone something to rally around.
After you've finalized all the details of your published Tiltify campaign and you're ready to add it to your project, copy your donation overlay URL (found in your campaign overview) and head to your Lightstream project. Once there, click the green "Add Layer" button, select 3rd Party Integration, and then select Tiltify from the integration list. After it's been added, simply paste the url you copied into the layers list and you're good to go! 
In addition to the Tiltify integration, we've provided some alternative overlays and panel art to let your viewers know who you're raising money for and how to donate. Clickable panel art and links in chat are the primary ways to get viewers to your Tiltify campaign to donate. That should always be your primary call to action.
Marathons, Multiplayer, & Lightstream
While not required, many streamers choose to do marathon streams (in some cases 24 hours) over the weekend. There are best practices for these types of streams, but another great alternative, is to stream in shifts with a team. This way you get all the benefits of having a marathon stream, without the downsides of potential health complications. 
Lightstream Prism is a great tool for streaming with friends – which provides a number of benefits for these types of streams. Not only can you get multiple people on stream at the same time – which is great for viewer engagement, you can also "Solo" streamers which allows one person to take over for awhile until someone else is able to join. By scheduling shifts, you can seamlessly keep the stream going with a steady rotation of participants! 
▷ See how the VisNomadic team used Prism to run their charity stream
▷ Try Prism
Gamers for Giving Prism Overlays
Use these branded Prism overlays to let your viewers know what your charity stream is all about!
Have fun. Do good.
We hope you get involved in Gamers for Giving in whatever way you're able this year. If you use Lightstream and are raising money – please let us know so we can help get the word out!