You may have heard that popular streamers can make some decent money live streaming on Twitch. Getting started in streaming can be a great way to start earning a bit of extra money in your free time while doing something you love.
*All information, numbers, and requirements are correct at time of publishing.
Add a header to begin generating the table of contents
The first thing you'll need to do is to reach Twitch Affiliate or Partner. Twitch affiliates unlock the ability to earn income from both bits and subscriptions, and Twitch partners can go even deeper into channel customization, and can potentially earn a bigger cut from subscriptions. But how do you become either? Well, it takes a bit of work.
Both of these statuses are application based and you're not guaranteed to have your application approved just because you hit the requirements. Note that Twitch may change requirements for affiliate and partner status at any time, so double check the current requirements to stay up.
To become a Twitch Affiliate you need to hit a few milestones in the last 30 days. You need to:
At least 8 total hours broadcast

At least 7 unique broadcast days

An average of 3 concurrent viewers or more

At least 50 Followers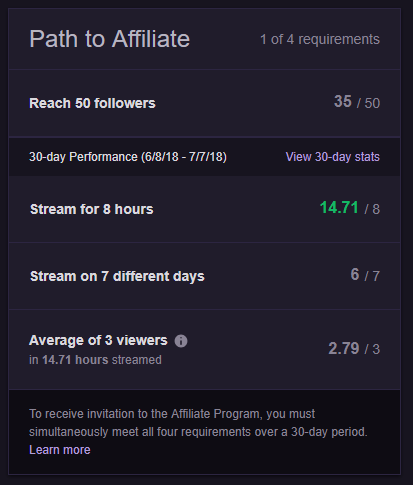 To become a Twitch Partner, you'll need to have already attained Affiliate status and hit the following goals over the last 30 days:
At least 25 streaming hours

At least 12 broadcast days

At least a 75 viewer average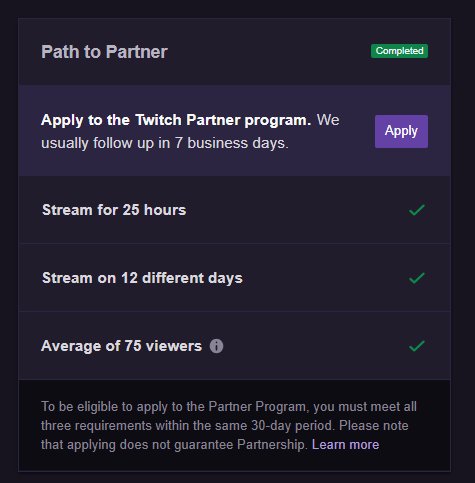 This is easier said than done, of course, but it helps to make sure you put effort into increasing the production value of your livestream with the tools found in Lightstream Studio. Think about adding scenes to your project with graphics and custom overlays.
Once you've got Affiliate or Partner Status, you've unlocked some Twitch tools to make money. Subscribers are really the most reliable and viable source of income through the Twitch platform. There are three subscription tiers that charge viewers between $4.99 a month to $24.99 a month. You can set up the tier names and unique perks such as custom emotes that make subscribing to you fun and different. Many streamers offer extra perks such as special roles in their Discord servers to make that subscription a little more enticing, so think about what you can offer your subscribers outside of Twitch too!

Pro tip: Amazon Prime subscribers have a free Tier 1 Twitch channel subscription each month. It's free for your viewers and you still get a cut of the subscription fee, so you can point your audience to that for a win/win.
Then there are bits, which is the tipping currency on Twitch to which viewers can use to cheer your channel. If you run entertaining streams and engage with your audience, you're more likely you'll get tips through bits or through direct donations. Remember, you want to incentivize your viewers to subscribe and donate by making it fun or including some perks for them. Include loyalty points for your community, create goals for people to help you out on, give shout outs or rewards for cheers, donations, and subscriptions.
Although you won't get a ton of money from them, ads are a reliable source of income through Twitch, but you'll need to use them correctly to avoid losing your audience. While you can place them anywhere in a stream, it's recommended that you place them midstream. Check out this Twitch article for their recommendations. Make sure to have these in place and then focus on growing your audience and channel for a bit extra income.
Diversify with Income Sources Outside of Twitch
There's only so much you can make through the Twitch platform since Twitch takes a cut. So to grow your income even more, you'll need to expand beyond Twitch, and there are a bunch of avenues to expand with.
Getting donations from viewers through other services can allow you to go beyond bits and cheers. Donations can be set up before you hit Affiliate/Partner. For example, you can create goals if you're saving for something. Free services like Rainmaker will allow you to link your PayPal account for donations, which can then live update a donation goal meter overlay on your stream. Check out our help article to learn how you can set that up. 
You can also set up an affiliate marketing account with companies like Amazon or platforms like Nexus, which create a store for you to sell games and give you a cut from each sale.
A lot of sponsorship opportunities will involve discount codes or affiliate links that will also give you a cut of sales.
Expanding your Social Reach
Why stick to just Twitch? You can also expand your audience by creating content for platforms like YouTube and TikTok. If your Twitch contract allows you to, then having content in more places boosts your discoverability, which can lead to more paying community members. You can also make an income from those other platforms by applying what you've learned about making an income from Twitch there. If you're a Studio 2 user, you can even multistream to multiple platforms at once and really cut the work down for you.
Offering subscriptions through outside services like Patreon is a great way to earn extra cash. You can entice viewers with additional bonus content for a monthly fee. Once your channel grows big enough, you can consider selling merchandise with your branding. Such as t-shirts, coffee mugs, or whatever else your specific audience would love.
Once you've turned enough heads, companies may contact you for sponsorships where you can get paid to promote their products through playing their games, adding logo overlays, mentions, and featuring products on screen. If you want to get an early start working with publishers, we'd recommend using Rainmaker Campaigns to apply for free game codes on new releases in exchange for coverage of their game on your stream.
The main thing to remember is incentives. Make it fun and worthwhile for viewers to subscribe, donate, or purchase from you. For more tutorials on upping your live streaming game with Lightstream Studio you can check out our YouTube videos or take a look at some of our other blog posts.