It's no secret that podcasts are skyrocketing in popularity. Over 70% of Americans over 12 years of age are tuning in to their favorite shows, and in 2022, the number of active podcast listeners grew to 125 million. There's a new trend in town now – live stream podcast – and it's taking the audio world by storm.
Live stream podcast is exactly what it sounds like – a podcast that is broadcast live, in real-time. It means listeners can tune in and interact with the hosts as they record the show. It's as though we've gone back to the radio-style broadcasts of the early 20th century, but with a modern twist.
Interested in creating a live podcast yourself? This researched article will give you a complete guide on how to do a live podcast. You'll also learn how Lightstream Studio 2 can help take your live podcast to the next level.
Lightstream Studio 2 is here to get you up and running fast. It's a snap to set up a professional and reliable stream. No downloads, no expensive gear. Check out its awesome features, sign up, and start your live podcast.
What is a Live Podcast, Anyway?
A live podcast is a real-time broadcast to an audience via streaming platforms. It's unedited, unfiltered, and happening as you tune in. It is in contrast to the more traditional recorded and edited podcast format, which can be published on demand after it's been created.

Spotify Live was recently released to allow artists and podcast creators to go live on the popular streaming platform.

Pod streamers also use popular platforms such as YouTube, Facebook, and Twitch to reach their audiences. Some podcast creation tools even have their own platforms for live streaming.
Difference Between Live Podcast and Streaming Podcast
The difference is straightforward. A live podcast is, well… live. It happens in real-time, which means it's unedited and more spontaneous than the other type of podcasts.

Podcast streaming, on the other hand, is the process of uploading pre-edited audio files to a streaming platform such as Spotify, Apple Podcasts, or Google Play. This type of podcast can be published on demand, which gives listeners the flexibility to tune in whenever they want.

While a live podcast may not have the same high production value as a recorded show, it does offer something that audiences crave – authenticity through interactivity. There's an added attraction that comes with being able to interact with hosts in real-time and hearing unfiltered thoughts on current events, pop culture, etc.

You don't need to choose between the two. You could live stream once a week, and release new episodes on demand the rest of the time. Or, you could record your live show and publish it as a podcast episode later.
Why Stream a Live Podcast?

If you're already producing regular podcasts, you may wonder why you should bother streaming podcasts live. After all, it's less polished than the recorded format, right?

Even successful podcasters need to mix things up now and then. The occasional live stream is a great way to spice things up, and you'll find that your dedicated listeners will appreciate it.

Live podcasts offer a great way to connect with your audience. You can take questions, give shout-outs, and create an interactive experience that you can't do with pre-recorded shows. It is perfect for building relationships with listeners.

If you've been trying to build an audience for your podcast but haven't had much luck, a live stream could be just what you need to break through. Live broadcasts tend to get more attention on social media, which means more people are likely to tune in and become regular listeners.
Varieties of Live Podcasting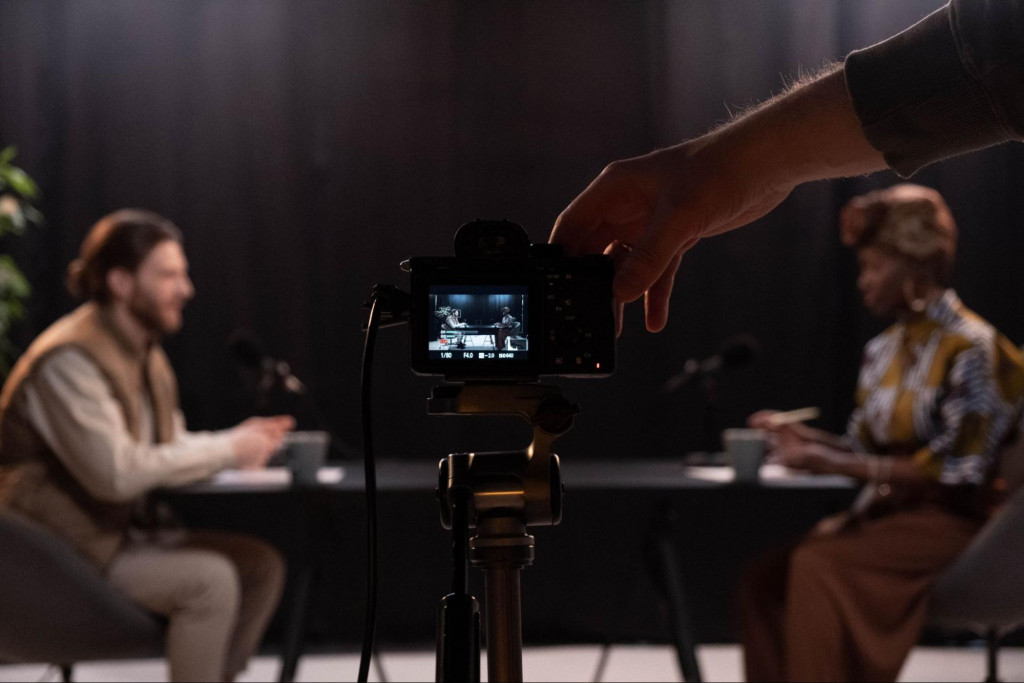 When podcast creators stream their shows, they don't always follow the same formula. Let's have a look at some popular live podcasting styles:
The classic live interview podcast features hosts chatting with one or more guests on a particular topic. For example, a popular live podcast on Spotify Live is DTR: Define the Relationship. Hosts Indiana Massara and Zach Justice invite friends, couples, and people in relationships to come on the show and explore the various stages and dynamics of modern relationships.
Some podcasters prefer to go it alone and stream their show solo. It's a great option if interviewing people is not your thing or if you enjoy going solo and addressing audiences. The Movie Buff is a great example. Jon Gabrus describes himself as the 'ONLY live movie review show'. Every Monday, he chats with his audience about movies.
An AMA (Ask Me Anything) podcast is a live show in which the host answers questions from the audience, either submitted in advance or asked in real-time. You may want to open up the floor to questions about your industry, life experiences, or anything else listeners might be curious about.

Often, creators do AMAs as a special episode of their regular podcast. The Q&A style perfectly suits live shows. You can answer listeners on the spot, as questions come through!
Considering that comedy is the most popular podcast genre, you might be surprised how many people tune in to live educational shows. Here's a breakdown of what people like to tune in to:
22% of listeners prefer comedy
21% news
18% true crime
17% health and fitness
16% religion
16% politics
15% self-help and productivity
13% finance
10% game shows
All of these podcast genres come under the category of 'education'. People love learning new things, and they appreciate being able to ask questions and get clarification in real-time. If you're an expert on a particular topic, consider streaming a live show to share your knowledge!
How often do you search for YouTube reviews of your favorite shows, music, or products you're looking to buy? If you're like most people around you, the answer is probably 'all the time'.

Review-style podcasts are often monologues in which the hosts share their thoughts on a particular subject. It could be anything from books and movies to video games, food, makeup, or gadgets.
It is one of the most common live podcast styles, particularly for shows that come out daily. News podcasts often have multiple hosts who discuss the top developments of the day in depth.

Deux Me After Dark is a popular livepod by Deuxmoi. Every Monday, she dissects the latest celebrity gossip. Some streamers cover stock market news, sports, or politics – it all depends on your niche.
Preparing to Livestream Your Podcast

Are you convinced that a live show is right for you and your audience? If so, it's time to start planning!
An essential part of preparing for a live podcast is researching and then researching more. Listen to other live stream podcasts to see what works and doesn't. Note each show's format, topics, length, etc., and use that information to shape your own.

Take some notes on what you liked, too. You should always create content that you enjoy, after all. It will come across in your delivery if you don't feel passionate about your subject matter.
Who is your target audience? It is an important question to answer before you start creating content. It's especially crucial for live shows.

Your audience will shape the entire tone and direction of your podcast. If you're aiming for a casual show, you can be more relaxed with your format and use humor liberally.

However, if you're trying to address the more professional listener, you'll need to present yourself as a sophisticated host.

That's not to say humor and education can't go together. Just follow Ologies by Alie Ward. It's a science podcast that's both educational and hilarious.
There's no rule that says you can only choose one format. Many live shows switch things up from episode to episode to keep things fresh. However, it's always a good idea to start with a basic format in mind, so you have something to fall back on when the inevitable technical difficulties (or creative blocks) hit. Your audience will appreciate the stability of a show that sticks to a format they're familiar with.
Choose the Right Time and Place
When and where you stream your live podcast will have a big impact on its overall quality. If you choose to stream during the day, you'll need to find a quiet place with good lighting and no background noise. A home office or spare bedroom is usually best for this. If you want to podcast at night, make sure your audience can see you clearly!
You need to choose the right gear for your live stream podcast. It is crucial to have a good microphone, so your audience can hear you clearly. You'll also need a platform to stream to, such as YouTube Live or Twitch.

While some podcast streamers invest in expensive gear and hardware, it's not strictly necessary. We recommend using our Lightstream Studio 2 instead. It's a sleek, simple service that works with your favorite streaming platforms. No need to spend hours configuring settings or troubleshooting technical problems. No need to buy costly gear. Just hit 'go live' and start podcasting!
Live Podcasting Gear: What Tools Do You Need?
It's common for podcast streamers to spend hundreds of dollars, if not thousands, on gear. But do you need all that? Let's break that down if you insist! (But remember, there's Studio 2 as a simple, hassle-free streaming service option).
The most important piece of podcasting equipment is the microphone. A good mic will make your audio clear and professional. USB mics are the simplest to set up, which is why they're our recommendation for beginners. Even advanced podcasters can get their hands on impressive USB mics these days, so there's no need to break the bank.
Pop Filter and Headphones
A pop filter is a small screen that attaches to your mic and helps tackle 'plosive' sounds such as 'p' and 'b'. These sounds can cause audio distortion, so it's best to remove them before they hit your mic. Pop filters are relatively cheap and easy to find, so we recommend getting one even if you're starting out.

As for headphones, you'll want these so that you can tell whether the audio is quality or not. Also, it also helps you focus better.
Camera (If You Want Visuals)
If you want to add visuals to your live stream podcast, you'll need a camera. You don't need anything too fancy. A simple webcam will do the trick. Make sure the video quality is good enough so your audience can see you clearly.
Mobile Device or Computer
Of course, you'll need a way to actually stream your live podcast. You can do this from either a mobile device or a computer.
Streaming Service and Destination
As we said, some streamers don't hesitate to drop serious money on a heavy recording interface and powerful streaming software. But trust us, it's not necessary!
Studio 2 is a cloud-based, browser-friendly service that works with all the major streaming platforms. It's simple to use and doesn't require any downloads or costly gear, so you can start streaming in minutes.

As for the destination, Lightstream lets you broadcast to whichever platform you want: YouTube Live, Twitch, Facebook Live, and more. You can stream audio as well as video.
Want to try out this easy-to-use streaming service? Have a quick look at its cool features, sign up, and start podcasting right away.
Let's face it – Spotify is a great streaming platform, but its live stream podcast offering is pretty slim. So, where should you stream your live show?

YouTube Live is a great option for podcasters who want to add visuals to their show. You can use a webcam or your phone's camera to stream video, and YouTube will take care of the rest. Want to leave out the visuals? Place a groovy image in the background and let your audio do the talking.

If you're looking to connect with gamers, podcasters, and creative people, Twitch is the place for you. The streaming platform has a huge community of content creators and plenty of tools to help you grow your audience. Plus, it's free to use – and it has one of the largest audiences among all platforms on this list.

You've likely seen Facebook streams before. It's a popular destination for celebrity streams, news organizations, and more. Anyone with a Facebook account can start streaming in minutes. It will work well if you've already drummed up a following on the platform.

If you're looking to connect with a more general audience, Twitter Spaces is a great option. Live streaming on Twitter is simple and you can speak directly to the people who care – your followers.
How to Livestream a Podcast
You've got the gear, and you've found the perfect streaming platform for your show. Now it's time to get started with your live podcast.
1. Choose engaging topics and guests. Remember that you're competing with the millions of videos and streams available on each platform. You need to give people a reason to tune into your show.
2. Start promoting your live stream podcast in advance. Use social media, email marketing, and any other channels you have at your disposal to get the word out a week or two in advance.
3. Plan what you want to accomplish during each episode. This will help keep you on track and prevent tangents (which can quickly lose viewers).
4. Get your streaming setup sorted with a mic and camera in a noise-controlled space. Mobile stands are a dime a dozen; you can get one on Amazon for less than $20.
5. Make sure you have a strong internet connection. This is critical for live streaming. Even a slight hiccup can ruin the audio quality of your show.
6. Connect with your interface (such as Lightstream Studio 2) and get hooked into your destination platform. When you're ready, start the stream.
7. Introduce yourself and your guests, then jump into the content. Remember to be engaging and keep things moving. If people tune out, they're not likely to come back.
8. Engage with viewers in the chat. You'll likely have to moderate the chat to keep things clean, but it's a great way to connect with your audience and keep them coming back.
When you wrap up the show, remember to thank everyone for tuning in. You can also promote any other content you have available.
Is it difficult to manage a live stream podcast?
It can sometimes be since you're dealing with live audio and potentially multiple people in different locations. However, with a bit of planning and the right technology, it's not more difficult than recording a regular podcast episode.
Is podcast live streaming worth it?
It depends on your goals and what you enjoy. If you're someone who really enjoys the editing process, then live streaming might not be for you. If you're looking to connect with your audience on a real-time basis, it's worth considering.
Podcast listening isn't slowing down any time soon, and live stream podcasts are steadily rising. If you're thinking about getting into live podcasting, there's no time like now. Choose your niche, plan your show, select a trusted service such as Studio 2, and start sharing content with your audience.
If you're reluctant to start because of potential technical difficulties or hefty price tags, Lightstream Studio 2 is your golden ticket. It's an all-in-one solution that makes live streaming a breeze, and at just $20 per month, it's a steal.
We've created the ultimate streaming tool that lets you broadcast to multiple live streaming platforms with zero lag, so you can focus on what you do best: creating great content.
Skip the downloads, forget heavy equipment, and start streaming live today with Studio 2!